Certified Naturals™ AppleSlim Apple Polyphenols Capsules 90s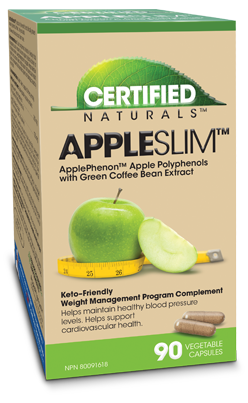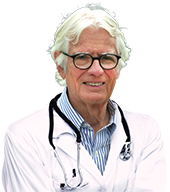 "No nonsense weight management."
Recommended by
W. Gifford-Jones, MD

Size: 90 Vegetable Capsules
Product Code: 62105
Canadian NPN: 80091618
UPC: 6 28341 62105 2
Certified Naturals™ AppleSlim™ is a natural supplement for use in weight management programs and cardiovascular support.
AppleSlim™ contains the world's leading apple polyphenol ingredient - ApplePhenon™ together with green coffee bean extract.
ApplePhenon™ is carefully extracted from specially selected wildcrafted immature green apples from Central Asia, the "Land of the Original Apple". Using a proprietary gentle extraction process, the highest concentration of apple polyphenols is preserved for optimal antioxidant activity. A daily dose of AppleSlim™ capsules containing ApplePhenon™ ingredient contains the equivalent polyphenols of 18 ripe apples.
ApplePhenon™ apple polyphenols are powerful plant-based antioxidants that have been the subject of human clinical trials for a wide variety of health issues:
Weight management for visceral fat and overall weight
Cardiovascular support (cholesterol and triglyceride management)
Glucose management
Athletic performance
Respiratory support
Skin care
Dental care
Inflammatory conditions
ApplePhenon™ is thought to have three primary modes of action to deliver its benefits for weight management and cardiovascular support:
1. Its role as an antioxidant (clearing waste from the cells and protecting them from damage)
2. Its prebiotic properties which promote improved gut flora
3. Its ability to mimic a calorie-restricted diet by inhibiting enzyme activity in lipid and glucose absorption
Two clinical studies have shown that daily doses of 600 mg of ApplePhenon™ can help to reduce visceral fat and overall weight. The first 12-week placebo-controlled study demonstrated that by using ApplePhenon™, visceral fat in overweight individuals could be decreased by 9% while reducing waistline and hip measurements. A second longer study showed a reduction in in visceral fat area, an improvement in adiponectin levels (anti-inflammatory hormone that helps with glucose control) and a decrease in overall weight.
ApplePhenon™ has become one of the best-selling weight management ingredients in the East Asian markets of South Korea and Japan due to its effective results for consumers.
Recommended use: Could complement a healthy lifestyle that incorporates a calorie-reduced diet and regular physical activity for individuals involved in a weight management program. Helps maintain healthy blood pressure levels. Helps support cardiovascular health. Source of antioxidants that help protect against cell damage caused by free radicals.
Appleslim Source Video
Formula
Product Details
Product Documentation
French Documents
Medicinal ingredients:
| Each vegetable capsule contains: | |
| --- | --- |
| ApplePhenon™ Apple Polyphenols (70% polyphenols) (Malus domestica) | 200 mg |
| Green Coffee Bean Extract (47.5% chlorogenic acids; 2% caffeine) | 135 mg |
Non-medicinal ingredients: Microcrystalline cellulose, colloidal silicon dioxide, vegetable grade magnesium stearate and hypromellose (vegetable capsule).
Recommended dose: Adults: Take 1 capsule, 3 times per day.
Cautions and Warnings: Consult a health care practitioner/health care provider/health care professional/doctor/physician prior to use if you are breastfeeding.
Contra-Indications: Do not use this product if you are pregnant.
KEEP OUT OF THE REACH OF CHILDREN. Do not use if outer safety seal is broken.
Free from animal derivatives, artificial colours, artificial flavours, corn, gluten, wheat, lactose, dairy, preservatives, soy, added sugar, yeast and GMO materials.