Certified Naturals™ Quercefit Quercetin 60 Capsules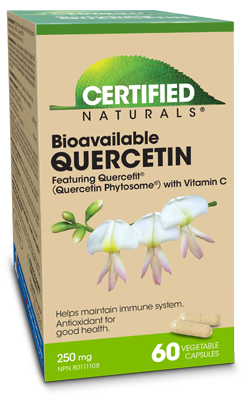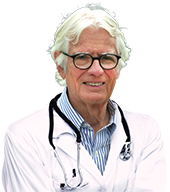 "20x better quercetin absorption."
Recommended by
W. Gifford-Jones, MD

Size: 60 Vegetable Capsules
Product Code: 62117
Canadian NPN:80111108
UPC:6 28341 62117 1
Certified Naturals™ Bioavailable Quercetin Capsules features Quercefit®, the most researched quercetin form on the market. Quercefit® has solved the absorption issues associated with quercetin and has demonstrated benefits for relief of allergy symptoms, histamine reaction, asthma, viral infections and improving athletic performance in clinical settings.
What is Quercetin?
Flavonoids are organic compounds found in plants. They act as antioxidants and antimicrobial agents that help plants grow and defend themselves. Quercetin is a specific flavonoid from the flavonol sub-group.
Quercetin is abundant in nature and can be found in many of the plant-based foods that humans consume. Onions, tomatoes, apples, berries, grapes, peppers, tea, seeds, nuts, flower buds and capers all contain quercetin. Most of us do get some quercetin daily, but the amount is not high enough to fully capitalize on its many health benefits. On average, human's intake less than 14 mg of quercetin in the daily diet.
The major challenge in unlocking the benefits of quercetin is its poor absorption. Quercetin has poor solubility in water and is inefficient in crossing cellular membranes into the bloodstream. Studies indicate that only 1-2% of quercetin consumed orally by humans is absorbed by the body.
Quercefit® - the most absorbable form of quercetin
Using Phytosome® technology to complex quercetin sourced from the flower buds of the Japanese Pagoda plant (Sophora japonica L.) with sunflower sourced lecithin, significantly improved absorption has been achieved. This phospholipid complex known as Quercefit® is the chosen source of quercetin used in the Certified Naturals® Bioavailable Quercetin formulation.
Superior absorption
The lecithin utilized in the Phytosome® technology protects quercetin from degradation by water and shuttles the quercetin through the intestinal tract more efficiently. This mimics how taking quercetin with a fatty meal would improve absorption. By using the Phytosome® delivery method, quercetin levels in the blood tested 20 times higher in blood measurements when patients take Quercefit® vs standard quercetin at comparable 500 mg doses. Quercefit® delivers levels of quercetin that one would get from a very quercetin-rich diet.
AUC Improvement
In a recent published study, the Quercefit® Phytosome® formulation was shown to be 20X more absorbable when taken at a 500 mg dose vs. an equivalent dosage of quercetin alone. This greater absorption is key to getting the best effectiveness from quercetin supplementation.
Quercefit®'s superior absorption makes it the quercetin of choice for anyone seeking the many benefits of this powerful flavonol.
Recommended use:Helps maintain immune system. Source of antioxidants that helps protect (cell) against the oxidative damage caused by cell damage caused by free radicals. Helps in wound healing and connective tissue formation. Helps in collagen formation to maintain healthy bones, cartilage, teeth and gums
Quercetif® Video
Formula
Product Details
Product Documentation
Medicinal ingredients:
Each vegetable capsule contains:
Quercefit® (Quercetin Phytosome®)
(Sophora japonica Quercetin-Phosphatidylcholine Complex)
250 mg
Vitamin C (ascorbic acid)
10 mg
Non-medicinal ingredients: Microcrystalline cellulose, dicalcium phosphate, vegetable grade magnesium stearate, colloidal silicon dioxide and hypromellose (vegetable capsule).
Recommended dose: Adults: Take 1 capsule, 1-2 times per day. Take with food/meal.
Cautions and Warnings: If you are pregnant or breastfeeding, consult a health care practitioner prior to use.
KEEP OUT OF THE REACH OF CHILDREN. Do not use if outer safety seal is broken.