Certified Naturals™ Marine-Source Magnesium Capsules with Aquamin Mg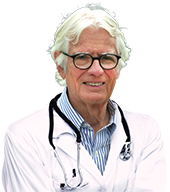 "Bioavailable magnesium from the sea"
Recommended by
W. Gifford-Jones, MD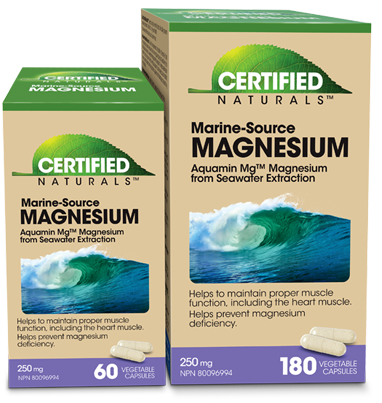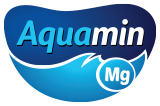 | | |
| --- | --- |
| Sizes: | 60 Vegetable Capsules |
| | 180 Vegetable Capsules |
| | |
| --- | --- |
| Product Codes: | 62107 (60 Capsules) |
| | 62111 (180 Capsules) |
| | |
| --- | --- |
| UPCs: | 6 28341 62107 6 (60 Capsules) |
| | 6 28341 62111 3 (180 Capsules) |
Certified Naturals™ Marine-Source Magnesium is a magnesium supplement made with Aquamin® Mg, a mineral complex extracted from seawater extraction. Aquamin® Mg™ contains 33% elemental magnesium with over 70 other minerals, including calcium, potassium, selenium, silicon and zinc.
Aquamin® Mg contains 71 different trace minerals in addition to magnesium. Among these minerals are calcium, silicon, manganese, boron, strontium, potassium, iron, and zinc. Minerals work together synergistically - this complex of minerals makes Aquamin® Mg more useful to the body.
Marine-Source Magnesium capsules offer convenient dosing at 250 mg of elemental magnesium per dose, allowing for 500 mg per day in only two capsules if required.
Aquamin® Mg has been clinically evaluated for bioaccessability and bioavailability and found to be many times more absorbable than common magnesium forms like magnesium oxide and as absorbable as magnesium chloride.
Aquamin® Mg magnesium has been clinically studied in conjunction with Aquamin® algae-source calcium for cognitive health and for improving microflora composition in the gut.
Recommended use: Helps to maintain proper muscle function, including the heart muscle. Helps to prevent magnesium deficiency. Helps in energy metabolism, tissue formation and bone development. Helps to maintain normal electrolyte balance
Aquamin Mg Source Video
Formula
Product Details
Product Documentation
French Documents
Medicinal ingredients:
| Each vegetable capsule contains: | |
| --- | --- |
| Magnesium (Aquamin® Mg* magnesium hydroxide) | 250 mg |
*Aquamin® Mg is a marine-source magnesium and mineral matrix extracted from fresh Irish seawater.
Non-medicinal ingredients: Colloidal silicon dioxide, microcrystalline cellulose, vegetable grade magnesium stearate and hypromellose (vegetable capsule).
Recommended dose: Adults: Take 1 capsule 1 to 2 times daily with food or as directed by a health care practitioner. Adolescents (9-18): Take 1 capsule daily with food or as directed by a health care practitioner.
Known adverse reactions: At 2 capsules per day: Some people may experience diarrhea.
KEEP OUT OF THE REACH OF CHILDREN. Do not use if under cap safety seal is broken.
Free from animal derivatives, artificial colours, artificial flavours, gluten, wheat, lactose, dairy, preservatives, soy, added sugar, yeast and GMO materials.