Certified Naturals™ Clinical Omega3X Fish Oil Gelcaps 60's with MaxSimil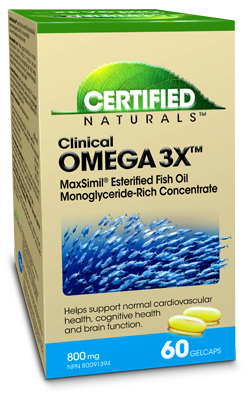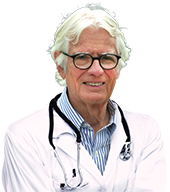 "The Perfect Omega-3"
Recommended by
W. Gifford-Jones, MD

Size: 60 Gelcaps
Product Code: 62102
Canadian NPN: 80091394
UPC: 6 28341 62102 1
Certified Naturals™Clinical Omega3X Fish Oil gelcaps feature the fish oil source known as MaxSimil® for superior absorption.
MaxSimil® is a patented omega-3 fatty acids technology that was developed and researched in Canada.
MaxSimil® starts with the highest quality fish oil caught off the coast of South America, then processed and purified in Norway. A biomimetic enzymatic process is then applied to form an absorption-ready monoglyceride (MG) form of fish oil.
MaxSimil® omega-3 technology mimics the body's natural processes, arriving "pre-digested" so that your body doesn't have to rely on its own processes for digestion.
As a monoglyceride, MaxSimil® is ready for immediate absorption into the small intestine. In a preclinical trial, MaxSimil® was shown to enhance the absorption of omega-3 fatty acids by over 3 times vs. a typical fish oil supplement of the same potency.
MaxSimil® is easier on the stomach and digestive system than traditional triglyceride and ethyl ester fish oils. Monoglycerides are easily absorbed and put less stress on the digestive process.

MaxSimil® fish oil is tested under IFOS (International Fish Oil Standards) to verify potency, purity and safety from environmental contaminants. Click on this link to see testing results for Clinical Omega3X.
Recommended use: Helps support/maintain normal cardiovascular health. Helps to reduce serum triglycerides/triacylglycerols (at two gelcaps per day). Helps support cognitive health and brain function. Source of omega-3 fatty acids for the maintenance of good health.
MaxSimil® Ingredient Video
Formula
Product Details
Product Documentation
French Documents
Medicinal ingredients:
Each gelcap contains:
Fish Oil
(from non-farmed anchovy (Engraulidae – whole), sardine (Clupeidae – whole)
and mackerel (Scombridae – whole) body oils
800 mg
Total omega-3 fatty acids
525 mg
EPA (eicosapentaenoic acid)
320 mg
DHA (docosahexaenoic acid)
185 mg
Non-medicinal ingredients:Vitamin E (mixed tocopherols) from sunflower and non-GMO soybean, natural lemon oil flavour, bovine gelatin, vegetable glycerin, purified water.
Recommended dose: Adults and adolescents (12-17 years): Take one to three gelcaps daily.
Adults: Take two to three gelcaps daily to reduce serum triglycerides/triacylglycerols.
Children (6-11 years): Take one to two gelcaps daily.
Storage: Keep in dry, cool place, protected from light.
KEEP OUT OF THE REACH OF CHILDREN. Do not use if outer safety seal is broken.
Free from artificial flavours, artificial colours, corn, gluten, wheat, lactose, dairy, artificial preservatives, added sugar, yeast and GMO materials.