Certified Naturals™ PureWay-C™ Vitamin C 500mg
Tangy Natural Orange Flavour Chewable Tablets

outperforms vitamin C by 233%!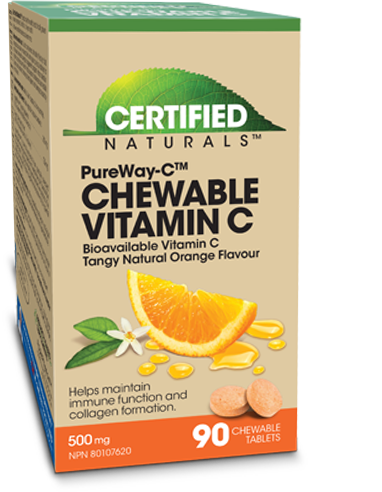 | | |
| --- | --- |
| Sizes: | 90 Chewable Tablets |

Certified Naturals™ has created the best-tasting way to take PureWay-C™ on the market. A delicious tangy, natural orange flavour, this chewable tablet is suitable for adults and children as young as 4.
PureWay-C™ is a vitamin C formulated in a complex of citrus bioflavonoids and fatty acids. The citrus bioflavonoids are plant pigments sourced from the Citrus aurantium L. species of bitter oranges. These bioflavonoids are a powerful source of antioxidants that helps to protect the ascorbic acid in PureWay-C™ (see chart below). Also in the formulation are fatty acids sourced from rice oil. These fatty acids help to deliver the water-soluble vitamin C across the intestinal barrier and into the tissues where it is needed, while helping with retention.
PureWay-C™ Advantage: Superior Formulation, Superior Absorption
PureWay-C™'s vitamin C content is protected by the powerful antioxidant citrus bioflavonoids
PureWay-C™ is formulated with fatty acids from rice oil. The fatty acids act as a carrier for the vitamin C to improve intestinal absorption and delivery to the tissues.
PureWay-C™ Vitamin: The Science
PureWay-C™ is backed by peer-reviewed published research.
Absorption

Comparative absorption studies using 1000 mg doses show that PureWay-C™ outperforms ascorbic acid, calcium ascorbate and the leading branded form of vitamin C. Versus regular ascorbic acid, PureWay-C™ is 233% better absorbed.1

PureWay-C™ shows quicker uptake at each time point and remains available longer at the cellular level.

The more vitamin C the body has available to it at the cellular level, the more of its health benefits can be derived.
Recommended use: Helps maintain immune function. Helps in collagen formation to maintain healthy bones, cartilage, teeth and gums. Helps to maintain the body's ability to metabolize nutrients. Helps in wound healing and connective tissue formation. Maintains healthy hair, skin and nails. Helps to prevent vitamin C deficiency.
PureWay-C™ Source Video
Formula
Product Details
Product Documentation
Medicinal ingredients:
| Each chewable tablet contains: | |
| --- | --- |
| PureWay-C™ Vitamin C (ascorbic acid, sodium ascorbate) | 500 mg |
Non-medicinal ingredients: Citrus bioflavonoids, rice bran oil, vegetable grade magnesium stearate, fructose, dextrates, monk fruit extract, xylitol, natural orange flavour, mixed tocopherol concentrate, carmine and turmeric.
Recommended dose: Adults (19 years +): Take 1-4 chewable tablets daily.
Adolescents (14 -18 years old): Take 1-3 chewable tablets daily.
Children 9-13 years old: Take 1-2 chewable tablets daily.
Children 4-8 years old: Take 1 chewable tablet daily.
KEEP OUT OF THE REACH OF CHILDREN. Do not use if outer safety seal is broken.
Free from artificial colours, artificial flavours, gluten, wheat, lactose, dairy, artificial preservatives, soy, yeast and GMO materials.