Change your heart health in under 3 months?
"We did."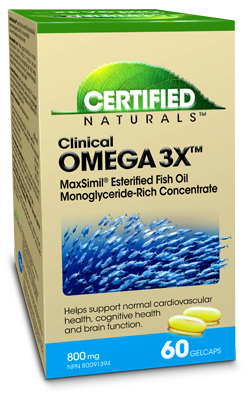 Research-based, natural cardiovascular support

"We used Omega-3 Index tests to measure the level of healthy omega-3 fatty acids in our blood before and after supplementing with Certified Naturals™ Clinical Omega3X™ fish oil. In under 3 months of taking 3 gelcaps daily, we both achieved a dramatic reduction in our risk of coronary heart disease. A rapid turnaround using a safe, natural remedy."
- W. Gifford-Jones MD and Diana Gifford-Jones.

Certified Naturals™ Omega3X Gelcaps featuring MaxSimil®
"CERTIFIED...for heart health."
Read the Full Story
Watch the Omega3X™ Ingredient Video
Watch the Omega-3 Index Video